USCamera Light Seal Placement Guide | Canon Canonet QL 17 GIII
USCamera Light Seal Placement Guide | Canon Canonet QL 17 GIII
Before doing anything, please go here
For more information on purchasing this kit, go here
You are installing a 6 piece kit for the Canon Canonet QL 17 GIII QL 19 GIII / QL 19N / QL 28
This light seal kit includes,
2 x 2mm – long back cover seals
1 x 2mm – back cover latch plate channel seal
1 x 1mm – channel seal camera body
2 x 1mm – small seals by the latch plate
General Installation Guidelines
Tech Note. This camera uses a special material for hinge seal on the camera body that does not need replacement.  This seal is a felt type material that does not wear out.  Now that many of these cameras are 50 plus years old we still find that seal in excellent condition.  Replace only if it is missing.
Latch plate seal, back cover. Install by centering this seal on the metal edge by the door latch plate.  Easiest to expose a little more working room if you carefully move the top of the film cassette spring with your left-hand index finger (or a popsicle stick) and with other hand holding the seal with tweezers, put the seal in place.
Door seals, back cover. Install the upper and lower back cover seals starting at the hinge side on the back cover, working from left to right. The back cover channel seals start and the edge of the cover and will end almost even with the door edge per the picture.  It is wrong to assume that the seal should extend up the side of the door next to the latch. You want to replace the material in exactly the same way it was originally installed. If the seals are completely missing, we are explaining exactly how Canon Authorized Service Facility technicians installed it.
Door Channel Seal, camera body.  Install this seal starting on the right side laying it up to the counter actuation lever. Cut the seal and start again on the other side of that lever.  You do not want to cover the lever or opening with foam or adhesive.
Installation Placement Images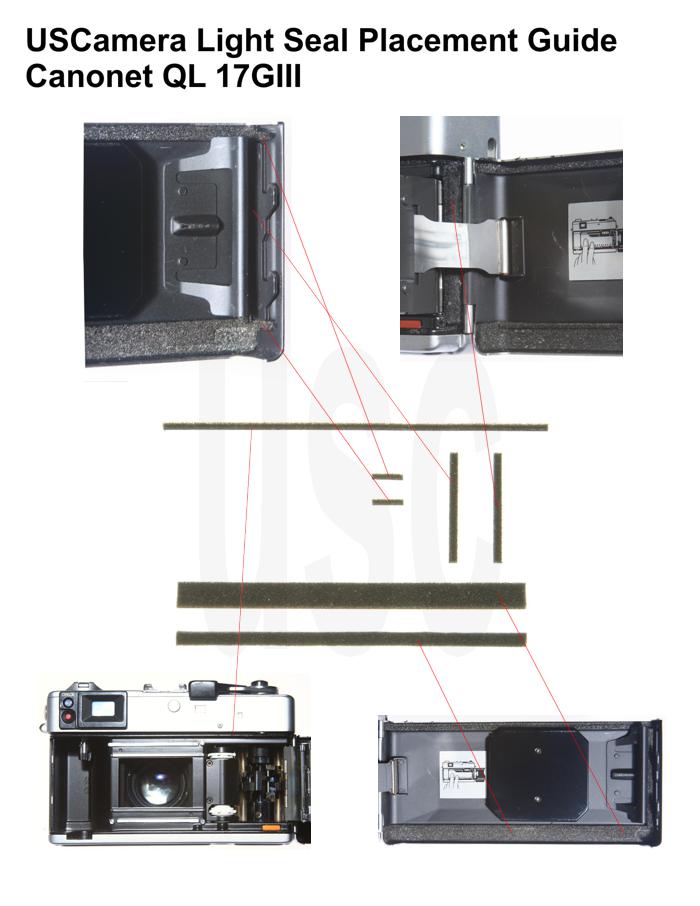 The image below gives you a little more information on the proper installation of the seals at the back cover latch end.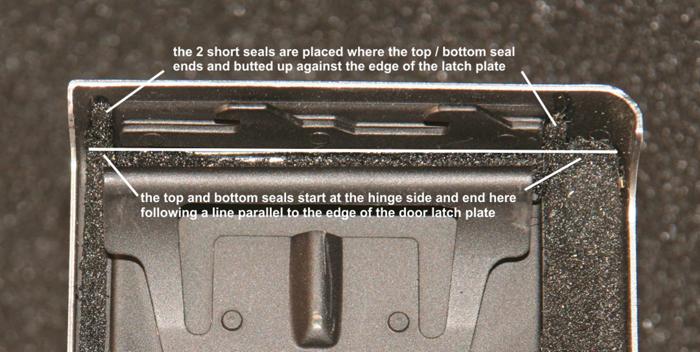 The most important and time-consuming work is removing the old seals. Focus on clean, clean, clean. Clean the old residue from the door channels, mirror cushion area, door hinge area and anywhere else you are replacing the seals. The finest adhesive in the world will not adhere to that sticky, gooey residue that was once a quality light seal. Proper installation will give you thousands of light tight exposures.
USCamera thousands of parts, camera, flash, lens, light seals plus more. USCamera Light Seal Placement Guide | Canon Canonet QL 17 GIII