Mamiya M645 Series Body Light Seal Placement Guide
Mamiya M645 Series Body Light Seal Placement Guide
You will need a small amount of contact cement that is foam friendly and toothpicks to apply it.
Also, I found Pliobond was the best adhesive to use.
Before doing anything, please go here.
For more information on purchasing this kit, go here.
You are installing an 11 piece kit for the Mamiya M645 1000 / 1000S / M645 J back cover and channel seals.
A custom cut kit for the mirror frame and mirror cushion is available here.
Take all of the seals out of the kit and lay them out on your work area. This kit includes,
Body Channel Seals x 7 pieces

1 x 2mm – latch plate seal, camera body
4 x 1.5 mm – channel seals, camera body
1 x 2mm –  door hinge seal, camera body
1 x 2mm – seal without adhesive
Back Cover Seals x 4 pieces

3 x 2 mm – channel seals, back cover
1 x 2mm –  rear cover hinge seal, camera body
Mamiya M645 Series Body Light Seal Placement Guide
Tech Note. The last foam applied to the camera body is the seal without adhesive. You want to center it best as possible
but it does not have to be perfectly centered. Also important to note, you do not want to saturate the foam with adhesive.
If you do, when the adhesive drys it is no longer very flexible.
Pick up a tiny bit of the adhesive on the toothpick. Immediately apply it to the center of the foam seal already in the camera body
and stick the foam in place on. Leave the foam alone until it sets up enough to stay where applied. Then you can work way
across the top and down the side channel. Try not to stretch that top seal at all when installing.
Look carefully at the image from the Mamiya parts list and see the top seal is not supposed to completely fit the channel all the
way to the bottom of the camera by the hinge seal.
Let that last seal dry overnight before installing and closing the back cover.
Opening the back cover hint. You will find the back cover always pops open much easier if there is a film insert installed in the body.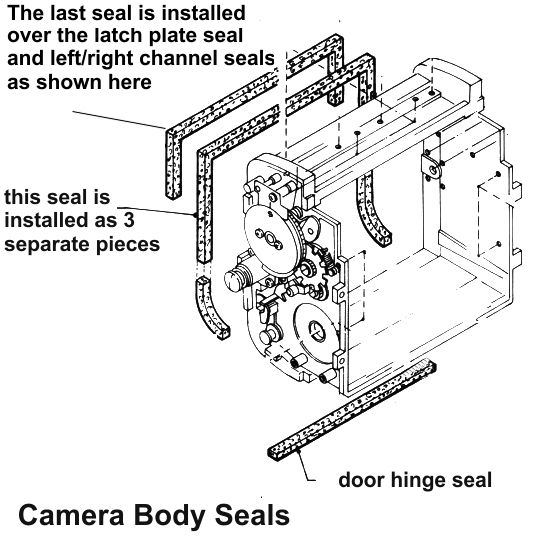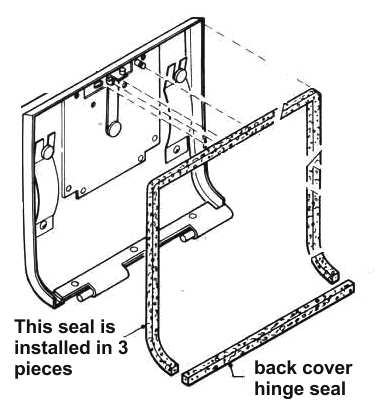 The most important and time-consuming work is removing the old seals. Always focus on clean, clean, clean.
Clean the old residue from the door channels, mirror cushion area, door hinge area and anywhere else you are replacing the seals.
Remember, the finest adhesive in the world will not adhere to that sticky, gooey residue that was once a quality light seal.
A proper installation will give you thousands of light tight exposures.
USCamera Since 1998 | Service Parts for Cameras Lenses | Light Seal Kits | Vintage Film Cameras | Mamiya M645 Series Body Light Seal Placement Guide
Lastly, always made to inspire…see New film camera products.