PowerShot C84-1449 Lens Cover
Genuine Canon replacement lens cover set for the PowerShot S5 IS digital camera.  This lens cover set includes the lens cover and cap leash. Lens caps will not attach to your S5 IS camera with the bayonet cover ring missing. See below.
Out of stock
Description
Additional information
Reviews (0)
Description
PowerShot C84-1449 Lens Cover |  S5 IS Digital
USCamera | Genuine Canon Parts |  EOS Digital | EF EF-S | Speedlite
PowerShot C84-1449 Lens Cover |  S5 IS Digital Cameras
EOS | PowerShot Digital Spare Parts
Display all available Canon parts. Look here.
You may always contact us with any questions or part requests.
We add new parts, light seals and also manuals almost every day.
Likewise, see all screws online for Canon imaging products. Go here.
Nothing fits looks and performs like genuine PowerShot C84-1449 Lens Cover, and for that reason, insist on them.
Do you also need spare parts for your imaging equipment? Does your camera, flash, lens, tripod or battery pack have a broken or missing part also?
Then you have found the right place.
USCamera Online Since 1998
Genuine Canon Parts | Service Manuals and Parts Catalog Downloads | Film Camera Parts
First of all, we have many part numbers in stock. In addition, the most asked for parts include battery covers, lens mount screws, shutter units, wind gears, wind levers, circuit boards, lens mounts, and Fresnel lenses.
PowerShot C84-1449 Lens Cover |  S5 IS Digital
Also stocking, USM units, flash shoes, gears, SD card slots, lens mount contacts, screws, top covers, camera body rubber cover, rubber thumb rest, rubber hand grip, SD card doors and more.
USCamera makes light seal kits for over 90 film camera models also. You may see all the USCamera light seal kits for Canon. Go here
Of course, we have photo grade foam, the same foam used in our light seal kits.  You may see all our foam sheets, cut strips, and all light seals kits in stock. Start here.
USCamera | PowerShot C84-1449 Lens Cover S5 IS | Also Canon Camera, Lens, Speedlite Parts Plus | Light Seal Kits, Foam Sheets | Service Manuals Parts Catalog Downloads
Always New and upcoming Canon imaging products. Look here.
powershot digital cameras, canon digital spares, canon eos cameras,
canon powershot, digital camera, s5 is
Please note. Your Powershot S5 IS must have the bayonet cover ring attached to the camera for this lens cap to be useful.  Per the image below, the bayonet cover ring is a removable knurled ring which allows customers to attach telephoto lenses and other accessories to the camera. The knurled ring is what allows the camera to hold a lens cap.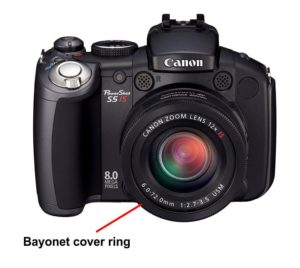 Additional information
| | |
| --- | --- |
| Weight | 2 oz |
| ya2-4194 guide collar sizes | .399, .400, .401 |