Nikon | Nikkor | EM | F | F2 | F3 | FE | FE2 | FG | FG20 | FM | FM2 | N2000 | N2020 | N4004 | N5005 | N8008 | N90 | Compact 35mm | Plus Many More
USCamera | Genuine Nikon Parts USA | Accessories | Cameras | Parts | Service
Every Month | Always Free | USCamera Free Monthly Download
USCamera has over 70 years combined experience with Nikon film products, parts and service.  You can count on us for support and stocking genuine parts.
Plus factory level service on any Nikon or Nikkor film camera product.
USCamera Since 1998 | Service and Parts for Accessories, Cameras, Speedlight, Nikkor Lenses | Light Seal Kits | Nikon | Made in Japan
Please contact us with any questions or part requests.
We add new parts, light seals and also downloads almost every day.
Professional Imaging Starts with Nikon
Nothing fits looks and performs like genuine parts, for that reason, Pros insist on them.
Do you need other spare parts for your photo products? Does your Nikon accessory, camera, or lens have a broken or missing part?
Then you have found the right place.
Display all Nikon spare parts online at USCamera.
USCamera Online Since 1998
Cameras | Lenses | Projectors | Lamps | Service | Spare Parts | Tripods | Stands | Heads
First of all, we have many part numbers in stock.
The most asked for parts include cover parts, screws, battery covers, sync covers, flash shoes, shoe plate springs, lens mounts.
Plus zoom rings, pin-faced screws, wind levers, focus screens, winding gears, filter frames and name rings.
Also, camera body leather, rewind knobs, zoom grips, filters, lens caps, rewind levers, SD card doors and more.
USCamera also makes light seal kits for over 100 film cameras. Shop all Nikon light seals kits.
Of course, we have photo grade foam in sheets, the same foam used in our light seal kits.  You may also see our foam sheets, cut strips, and all light seal kits in stock. Start here.
Nikon | Nikkor | EM | F | F2 | F3 | FE | FE2 | FG | FG20 | FM | FM2 | N2000 | N2020 | N4004 | N5005 | N8008 | N90 | Compact 35mm
Lastly, always made to inspire… see the new Nikons.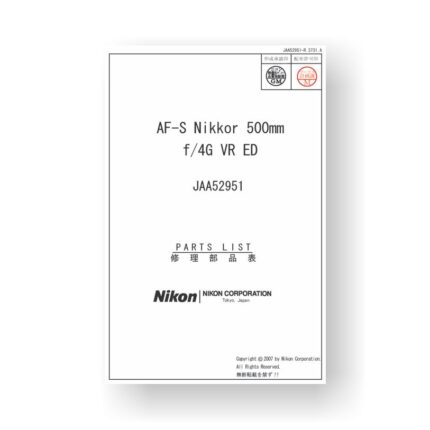 Digital presentation of a genuine Nikon Nikkor AF-S 500 4 G VR ED parts list and exploded views. Download available immediately after payment is accepted. 2 download limit for the file(s) purchased never expires. Make sure your download is delivered smoothly and hassle free. Make a user account when checking out. More information on that
here.
14-page PDF 1.32 MB Nikkor JAA52951 Parts List