Yashica YashicaMat 124G and More Custom Light Seal Kit
USCamera custom light seal replacement kit for the YashicaMat 124 / 124 G camera body.  This is the back cover seal and is the only seal that needs replacement on this camera. It is supplied in 2 pieces for ease of installation.  Each seal piece will cover the top or bottom and 1 side. Though this seal is cut for the 124G it fits every Yashica Model we have seen that uses a seal on the back cover. Some older TLR Yashica cameras may not use a seal at the door hinge. If that is the case with your camera, you will not want to add foam there.  If your camera has a meter,  included but not pictured is seal on the meter if you remove the flip up finder / hood.
In stock (can be backordered)
Description
Additional information
Reviews (0)
Description
Yashica YashicaMat 124G and More Custom Light Seal Kit
USCamera Custom Light seals Yashica Film Cameras
We have a few hundred new and thousands of used Yashica film camera and flash parts.
Please Contact us for any questions you may have. New light seal kits and parts are added every day from customer requests.
Our kits use photo quality imported open cell foam.
For help installing light seal kits go here.
USCamera Light seal kits available for Yashica film cameras
"The most important and time consuming work is removing the old seals. Focus on clean, clean, clean. Clean the old residue from the door channels, mirror cushion area, door hinge area and anywhere else you are replacing the seals. The finest adhesive in the world will not adhere to that sticky, gooey residue that was once a quality light seal. Proper installation will give you thousands of light tight exposures."
Yashica cameras were made by Kyocera Japan. Though no longer making film cameras, what they are doing, see this
This is a five piece kit, 2 long channel seals, 2 short channel seals and the foam seal around the meter (not shown)
Please Note.  Most of these cameras use wool seals. The hinge seal on these cameras is usually in good condition.  Replace only if necessary.
USCamera custom light seal placement guide – YashicaMat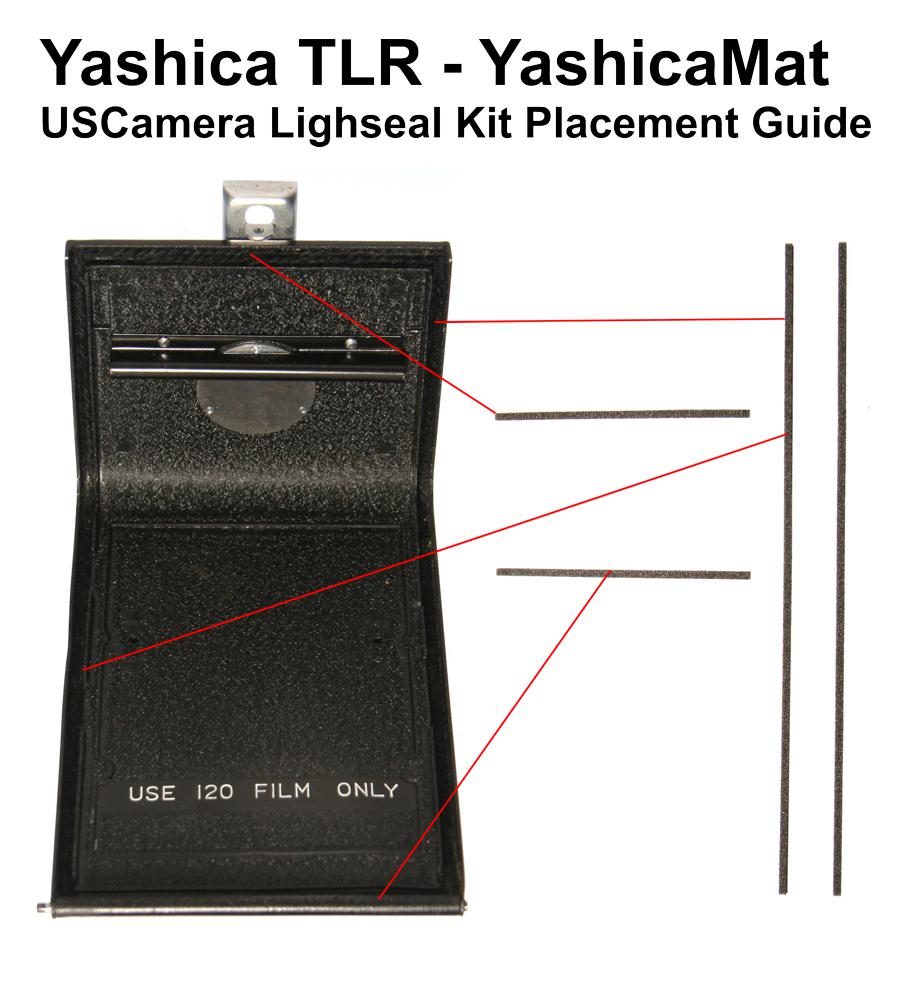 Yashica YashicaMat 124G and More Custom Light Seal Kit