Canon PowerShot G10 Strap Base Bottom Cover Screws CD4-2984
Genuine Canon replacement bottom cover screws for the PowerShot G10 digital camera.  These replacement screws fit the bottom of the lower left rear cover below the strap base and retain the strap base.  Package of 3 screws.  See the placement diagram below.
In stock
Description
Additional information
Reviews (0)
Description
Canon PowerShot G10 Strap Base Bottom Cover Screws CD4-2984
USCamera | Genuine Canon Parts.
This part fits Canon G10
Display all available Canon imaging parts here.
Please Contact us with any questions or part requests. We add new parts to our online inventory everyday.
Nothing fits looks and performs like genuine Canon parts. Insist on them.
Do you need replacement parts for imaging equipment? Does your flash, camera, lens, tripod, battery pack have a broken or missing part?
Then you are at the right place. USCamera sells Canon and other imaging equipment spare replacement parts online since 1998. We have thousands of part numbers in stock including battery covers, fresnel lenses, lens mount screws, DC DC converters, shutter units, curtains, wind gears, wind levers, metering circuit boards, focusing screens, flexible printed circuits, USM focusing units, flash shoes, gears, SD card slots, door detector switches, screws, top covers, camera body rubber cover, rubber thumb rest, rubber hand grip, card doors and more for film and digital products.
In addition, we have light seal kits for over 80 different camera makes and models in stock. USCamera has the largest inventory of imported light seal material in the US.
Always New and upcoming Canon imaging products look here.
Canon PowerShot G10 Strap Base Bottom Cover Screws CD4-2984,
canon powershot g10, bottom cover screws, strap base screws
USCamera has Canon EF-S parts, accessories and more. We have thousands of parts available for digital cameras, lenses and shoe mount flash. Currently making film camera light seal kits for many popular models. Please contact us with any questions or parts not listed
You are purchasing screw #102 and fits where indicated in the diagram below. All other screws are no longer available at this time.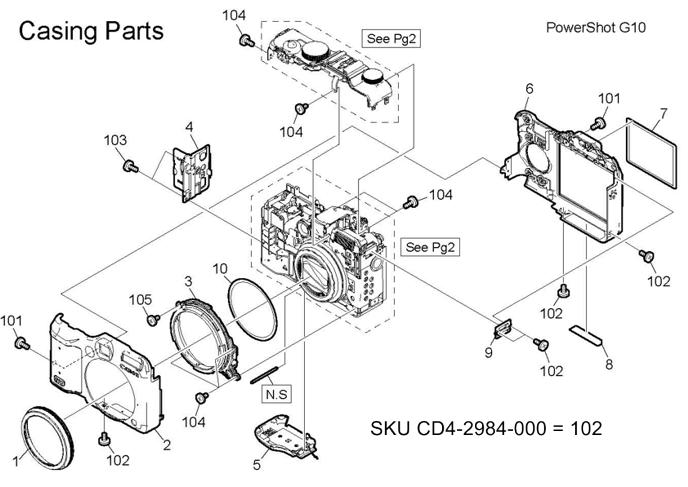 Additional information
| | |
| --- | --- |
| Weight | 2 oz |
| ya2-4194 guide collar sizes | .399, .400, .401 |